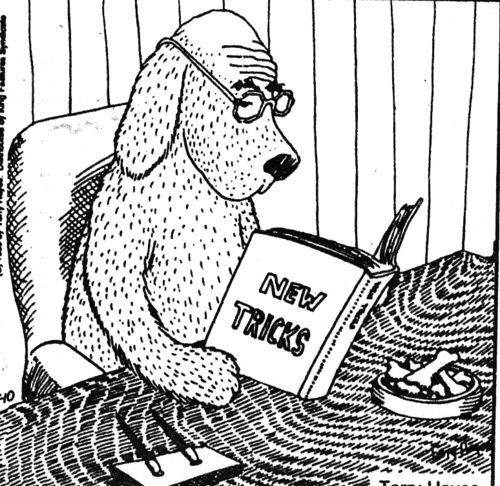 by Deborah Kops
Notice the proliferation of senior GBS practitioners who are hanging up consulting shingles? We are suddenly spoiled for choice with the number of individuals or groups of fellow travelers (aka getting the boys in the band back together) happy to share their expertise for a fee. What is causing this trend—reaching an age when corporate politics are no longer palatable, a culling of highly paid senior staff, or just the natural changing of the GBS leadership guard? Will these folks be successful?
I am a strong believer in reinvention. I 'm one of the best examples I know of a person who has continually re reinvented herself, especially late in career life. I know firsthand that creating a satisfying career post being what the Japanese call "salary man" can be within almost anyone's gift.
But not all former leaders will make a successful transition.
Taking away the trappings of authority and corporate brand, not every long-tenured practitioner will be successful packaging and peddling what they've learned as GBS leaders. Many years leading a GBS organization will not be a sufficient calling card in a crowded advisory space, especially one with many good consulting firm options. And, in an industry with three main sources of talent—employed, outsourced and consultants—we don't yet have a common understanding as to where independents can best be plugged in, nor an efficient marketplace within which to access and contract with them. As a result, it will be up to the advisor to create a pull for his or her expertise.
So, in making the transition, I thought about what it takes to have a successful next act as a GBS advisor.
Here are my top tips:
Have a hook Stand for something other than "I built several successful organizations from scratch." Or "I worked for Y company, the market leader in GBS operations." That's past history. Decide upon a distinctive voice and point of view, and market the dickens out of it by writing and speaking.
Market problem-solving skills, not sanitized versions of the PowerPoint slides used in past gigs Horror stories abound of former practitioners who think that advising is not much more difficult than repurposing slides developed in their former roles, often with the old logo still visible. Your value as a practitioner is the fact that you know how to solve pieces of the complicated puzzle that is GBS, not a youngster that has been trained in the one-size-fits-all consulting methodology.
Don't fake it All things to all people doesn't sell as an independent advisor. Decide what you are good at and what problems you enjoy solving. As an advisor, it's critical that your expertise is pretty close to best in breed; after all, you don't have the luxury of a big consulting brand to hide behind.
Roll up your sleeves Most likely the client organization needs someone who is a doer, not someone with grey hair who only wants to advise and warn. Positioning yourself as a player-coach rather than an armchair consultant who is there only to validate decisions with the expectation that the team will execute is a good strategy.
Stay current GBS as a model is constantly evolving. Last year's Warsaw, Poland may be this year's Warsaw, Indiana. The functionality of the market-leading RPA tool you implemented two years ago may now be overshadowed by a new platform. Post COVID, conserving cash is likely a stronger focus than going digital. Ensuring that you are not operating in a time warp is key to delivering value to clients.
Don't push how you did it at XYZ company Be contextual and apply core principles to the challenge at hand. There is no cooky cutter approach to creating, sustaining and evolving a GBS organization. While our industry has vaunted examples of top performing GBS organizations, no two GBS organizations will ever operate in the same context.
Understand what the market will pay Don't expect to waltz in collecting the equivalent of a senior consulting partner hourly rate. Some GBS organizations will engage independent advisors because they either have consulting fatigue or tapped out budgets. Starting out, you may find the compensation not what you expected. Seek to create a win-win cost-value equation.
Fit into the culture An independent advisor will likely have a deeper level of intimacy with his or her client team than a large consulting firm. Therefore, it's critical to adopt the client's ways of working, not trying to run the show.
Don't usurp As a successful, long-tenured GBS professional, you may find that you are far more expert in strategy or operations than the leader you are advising. Don't patronize, show off or trash the decisions the team has previously taken. Your job is to help them see the need to course correct or take a different set of decisions, not run the show.
Be honest about your goals Is advising a new passion, or something to do between golf games or travel also known as staying in the game? Are you happy to take on a role opportunistically, or create a business with a pull? There is nothing wrong with shaping a portfolio of work that allows for some well-earned leisure or pursuit of other interests. But being in the advisory game is hard work if you expect it to become your next career.
Do a trial run A number of consulting firms have associate programs that tap into the talents of GBS practitioners to shape and deliver engagements on as-needed basis. Perhaps starting out by working with one of them will give you a taste with limited risk and marketing effort.
Be generous All good things come to those who create opportunities for others in their networks without calculating return. It's the best way to grow an independent advisory business. Speak at a meeting without thought of a fee. Help a potential client without a contract. Refer another advisor who has stronger expertise than you do. Freely participate in the GBS community. Be known as someone who wants to add to the GBS debate.
Best wishes for every success,
Deborah