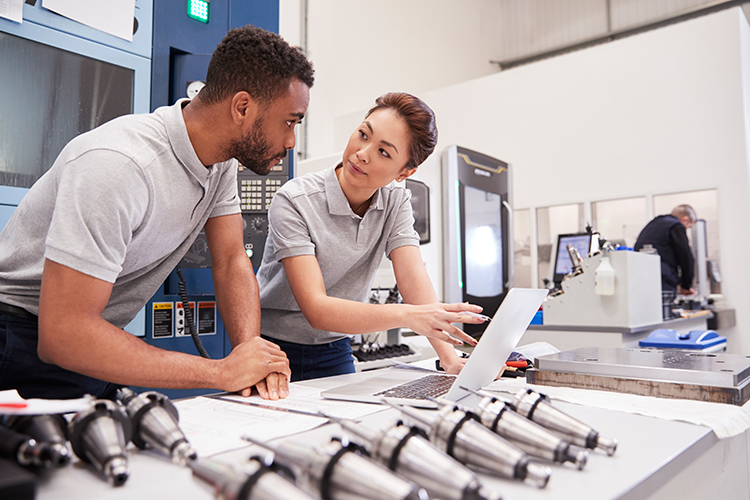 By Janet Ramey
Manufacturing is historically one of the world's most male-dominated professions. The Bureau of Labor Statistics reports that around 27.5 percent of women are employed in manufacturing in the United States. And in Australia, where this week's expert is based, 29.5% of the manufacturing workforce is female. Compared to women's labor participation rate of 57% in the US and 47% in Australia, the industry clearly lags. And that's a problem, because expanding the labor pool a critical focus in an industry where many manufacturers still struggle to fill critical jobs and automation is shifting the nature of roles.
Over the past 30 years, manufacturing industry efforts have focused on increasing women's representation and expand the labor pool.
But what happens when diversity, equity and inclusion (DEI) focus goes beyond the traditional gender focus? And why is that imperative now?
Paulette Ansara is Strategic Talent Acquisition & Development Specialist with BOC South Pacific. Based in Sydney, Australia, Paulette has evolved her perspective with over 20 years HR experience working across a variety of industries in South Pacific as well as APAC markets.
Through her experience, Paulette finds that diversity, equity, inclusion and belonging are a powerful and necessary combination to drive change in companies and beyond. If, as the saying goes, Diversity is being invited to the party and Inclusion is being asked to dance, then belonging is the individual sense of acceptance within a group and equity is possible as an outcome.
When I spoke with Paulette recently, I found her challenged and energized by the opportunity to be a catalyst within the company. Joining a traditional, blue-collar manufacturing and engineering company was a big change from the government and tech sectors where she had worked previously. With a traditional culture in male-dominated industry, the company was early in its DEI journey when Paulette joined.
"I truly believe that we are in a very unique period of time in world history and with this brings a prime opportunity to be a catalyst for real and lasting change in this space."

Paulette Ansara, Head of Talent, BOC South Pacific
Diversity education and hiring efforts were already in place, so Paulette focused on linking the importance of DEI to customers and the communities in which the company operates across ANZ, Papua New Guinea and the Solomon Islands. That led Paulette to create the Indigenous and Refugee Internship Program.
Like many developed countries, Australia has struggled with unauthorized arrivals of refugees. Since the 1990s, thousands have sought asylum due to war, civil unrest and persecution in their homelands. During the same period, the country's policy toward indigenous Australians has evolved to focus on reconciliation and broader representation. Including both refugees and indigenous people in education and employment is important priorities for the Australian government and businesses alike.
Innovation in DEI: The Indigenous and Refugee Internship Program
Indigenous and Refugee Internship Program aims to reach refugee and indigenous students in communities where BOC operates. Its focus is to raise awareness about opportunities in the industry and spur interest in engineering. Aimed at the upper school grades, the program offers education, production plant tours and internships in the business. Outcomes for the business include a more diverse talent pipeline and deeper connection to the community. Other results include an uplift in employees' cultural understanding of the indigenous interns and respect for their work ethic and skill.
"The feedback I have received from the business not only on the quality and performance of these interns but the cultural awareness the teams who work with them have developed. Creating employment pathways for minority groups is a pillar of our DEI strategy and pivotal for future pipeline building."
For the business, the program also contributes to BOC's corporate social responsibility goals and is highlighted to clients to underscore the company's commitment as a diversity supplier.
This program impressed me deeply, not only because of its success and impact, but in its ability to expand the focus of DEI to work for broader social justice. Addressing the needs of the disenfranchised and creating pathways to employment and education is critical to better outcomes for the community at large. In demonstrating how people from different backgrounds can come together to work in inclusive settings, such programs contribute to changing the dynamics not only in the workplace, but in the broader society.
You don't have to be in manufacturing to take best practices from Paulette's work.
Consider these practical steps:
Think outside the traditional focus areas for DEI, beyond gender and race to consider socioeconomic diversity, ability and educational gaps
Connect with the community in which your facilities operate
Launch efforts at the high school level to connect with local youths and build awareness of the promising careers that exist in your industry including attractive pay
Actively broaden your talent pipeline to pull from a more diverse talent pool to expand the presence of diverse thoughts and experiences in your workforce.
Do you have a story to tell about your success in broadening DEI and belonging in your enterprise? Join the conversation.